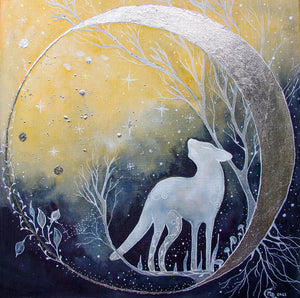 Coyote Spirit- In praise of Animal Spirits
 A true survivor that keeps going in spite of so many hardships: shrinking habitat, disease and a bad reputation to name a few. 
I see at least one almost every day on my walks to the river. We have gotten used to each other. They know I don't try to get close and some of them are so comfortable that they will lie down to enjoy the sunshine a few yards from me while I take pictures.
I have painted them on several occasions and I don't get tired of them. They all have different personalities of course and I look forward to see them every day.
What is your Spirit Animal? Join me in painting your favorite animal in this new class. Whether you are painting your animal or someone else's for a gift, it'll be a magic-filled painting that you can be proud of.
And a few more pictures for inspiration :)
Much love and happy painting!
---